Press for The Gift
Success Magazine selected The Gift as one of 10 essential books to read for Women's History Month. It is part of "a collection of books to help celebrate the untold stories of the extraordinary women who came before us, cherish the friends and family who lift us up, and inspire you to keep pushing toward your most ambitious goals, this month and year-round."

"The Gift is a hands-on guide that gently encourages readers to examine the thoughts and behaviors that may be keeping them imprisoned in the past. Written by 93-year-old Holocaust survivor, and renowned psychologist, Dr. Edith Eger details how the worst prison she experienced was not the prison that Nazis put her in, but the one she created for herself; the prison within her own mind. With empathy, insight, and humor, she describes the 12 most imprisoning beliefs she has known—including fear, grief, anger, secrets, stress, guilt, shame, and avoidance—and the tools she discovered to face these universal challenges."
---
"La Jollan Edith Eger is offering lessons to overcome life's challenges in her second book, published in September. "The Gift: 12 Lessons to Save Your Life" contains wisdom Eger gleaned as a survivor of the Holocaust, cultivated in the decades since as a clinical psychologist and shared as part of Eger's propensity to give."
---
"Decades after the world saw the death and destruction caused by the Nazi regime, it's grappling with a different crisis and Eger, a psychiatrist and expert in PTSD, expects the trauma of the pandemic to stay with frontline workers."
---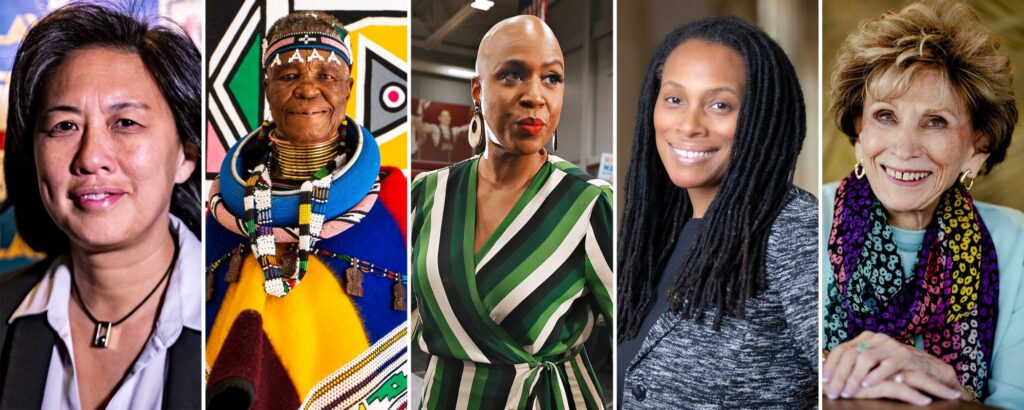 Each February, InStyle celebrates its Badass Women issue by honoring 50 women who show up, speak up, and get things done.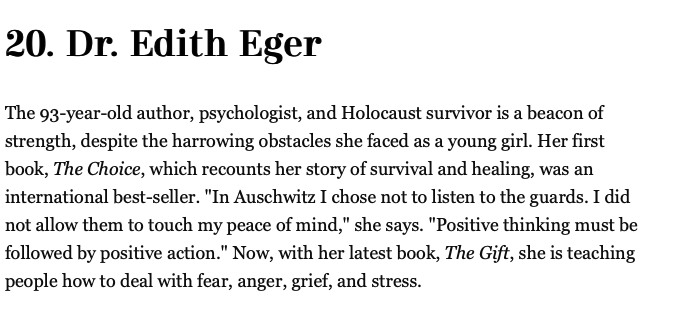 ---
Oprah Magazine
This article focuses on how to identify a hopeless romantic and includes expert's advice for hopeless romantics.
"Dr. Edith Eger, psychologist and bestselling author of The Gift: 12 Lessons to Save Your Life, says that dysfunction starts to brew when self-care takes a back seat. "Romance is wonderful, but not when it becomes so important that a person stops taking responsibility for their own happiness. Romantic interests should never become such a priority that a person puts their life in someone else's hands.""
---
A psychiatrist – who is also a holocaust survivor – shares how we can navigate these difficult times.
---
Are you looking for a great new book for the new year? Darrah Brustein shares her favorites which happen to all be non-fiction, and mostly in the categories of personal development, spiritual growth, and social justice.
"My favorite books are always the ones that make you think. These new nonfiction releases are all about the twists and turns of life, and embracing adversity." – John Brandon
---
This piece by Julia Naftulin focuses on The Gift and the lessons and advice it offers on how to cope with grief and survivor's guilt. Dr. Eger was also able to share the top three tips on how she has been able to cope with grief.
---
Marilyn A. Mendoza Ph.D. writes about understanding grief using the teachings from Dr. Edith Eger's The Gift.
---
Dr. Eger shares an excerpt from The Gift.
We never know what's ahead. Hope isn't the white paint we use to mask our suffering. It's an investment in curiosity. A recognition that if we give up now, we'll never get to see what happens next.
---
Zoe Report: How To Talk Politics Without Ruining Your Relationships
"Instead of engaging with button pushers, people on Facebook, or that uncle you only see twice a year, Eger, the author of The Gift: 12 Lessons to Save Your Life, suggests an elegant workaround: "It doesn't help to say 'you're wrong and I'm right' because it takes two to fight," she says. Instead, simply say "thank you for your opinion" as a way of closing the conversation or transitioning into a new topic. Choosing to filter out triggering conversations helps preserve energy for people with whom you already have a strong emotional investment. Because no matter what your beliefs, talking through politics with love and care takes a lot of work — but it can be worth fighting for."
---

I Survived The Holocaust. Here's How To Hold Onto Hope Through Anything
This essay is from Edith Eger, PhD, a psychologist and Holocaust survivor, followed by an excerpt from The Gift: 12 Lessons to Save Your Life. In the essay and excerpt, Eger discusses surviving a pandemic and Auschwitz, and offers powerful lessons in resilience, grief, and finding hope amid darkness.
---
The Jewish Journal interviews NYT Bestselling Author and Holocaust Survivor Edith Eger on Her Self-Help Book 'The Gift'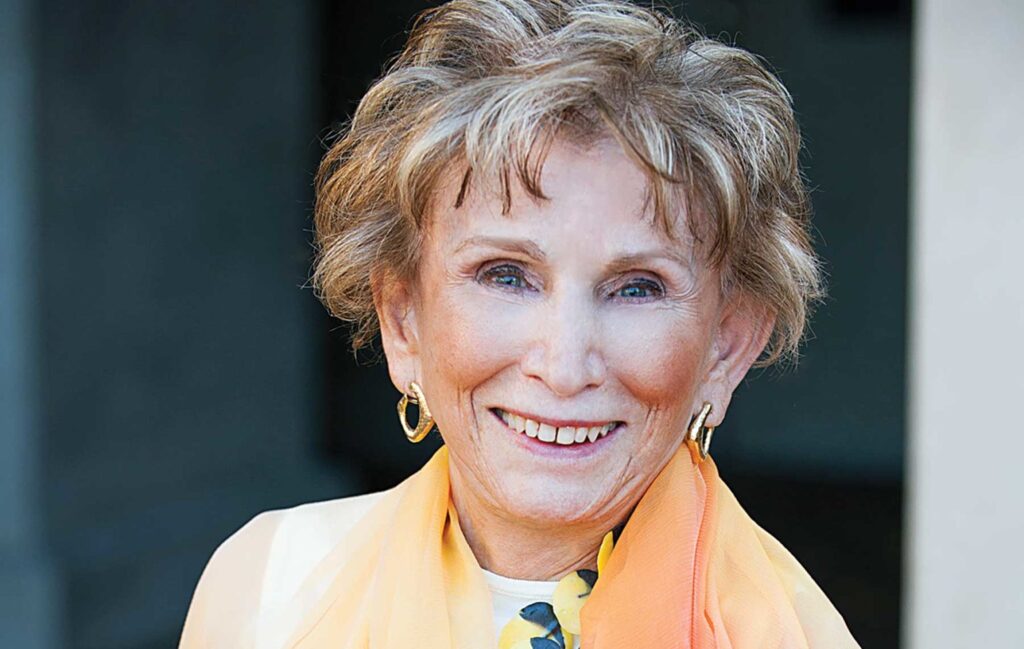 From the interview: "Life is about change and if you don't change, you don't grow. The way you talk to yourself changes your [entire] body chemistry. [It's so] important to have a healthy self-dialogue. None of the positive thinking will do any good unless it's followed [by] a positive action."
---
Dr Edith Eger tells TheJournal.ie why over 70 years after leaving Auschwitz she wants people to see her a 'role model'.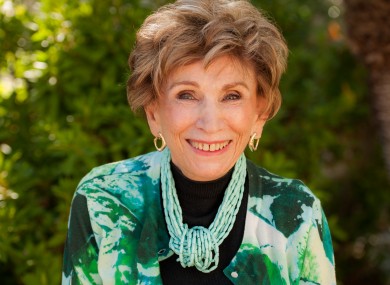 TheJournal.ie interview: 'I owe it to my parents': 92-year-old Auschwitz survivor determined to show there is hope in face of adversity.
---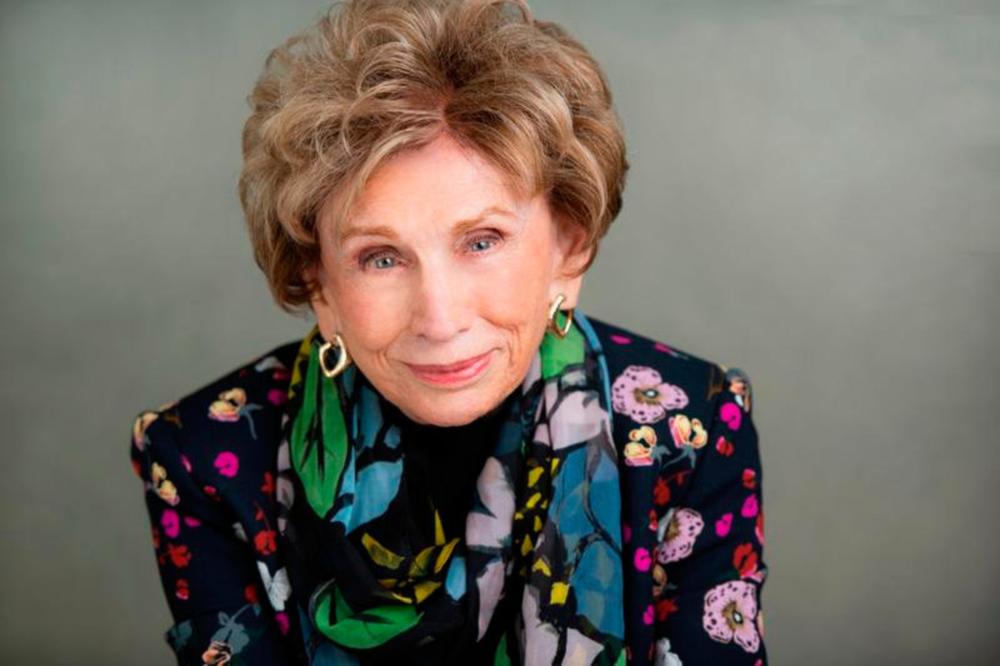 Edith Eger was aged 16 when she was sent to Auschwitz, where both of her parents were murdered. She talks to Donal Lynch about rebuilding her life and the lessons she learned. Read it at the Belfast Telegraph or The Sunday Independent.
---
The Daily Mail's Article on Edie's New Book — The Gift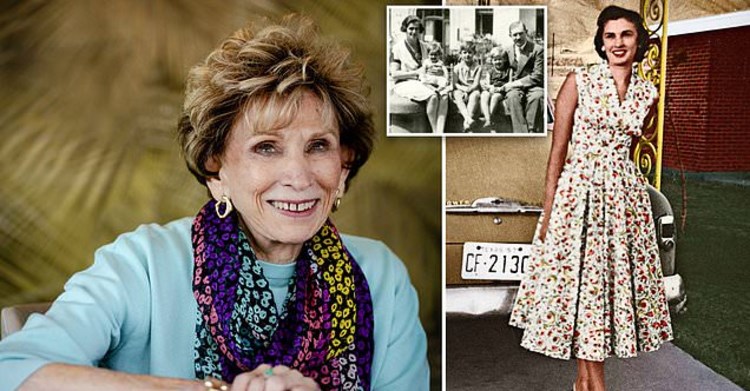 The Uk's Daily Mail has published a beautiful article about Dr. Eger and her upcoming book, The Gift.