Interviews
Love Wins Over Hate
LOVE WINS OVER HATE explores the personal transformations of six individuals who went from agents of anger and bigotry to advocates for empathy and inclusivity. In the documentary, former Neo-Nazi Shannon Foley Martinez discusses how easy it was to direct her unprocessed rage and self-hatred from a sexual assault into a movement rooted in hate. Other interviewees include former white supremacists.
Several of those affected by the actions of white supremacists are also interviewed including Dr. Eger who appears at about the halfway point, but please watch the whole thing.
---
An Auschwitz survivor who became a psychologist specializing in trauma, Dr. Eger gives guidance on processing this time of crisis. Oprah talks with Dr. Eger and others to provide insight, meaning, and tangible advice for the human spirit.
---
Argentinian Website Sophia Online
Edith Eger, sobreviviente del Holocasuto: "Si yo viviera en el enojo y el dolor, no sería tan feliz"
Dr. Eger gave an interview with the Argentinian website, Sophia, in November 2019. You can read it here. It is in Spanish, but Google Chrome and other browsers have translators you can use if you prefer English (or another language).





---
SuperSoul Sunday with Oprah
Oprah talks to Holocaust survivor, psychologist and author Dr. Edith Eva Eger about her international bestselling book, "The Choice: Embrace the Possible."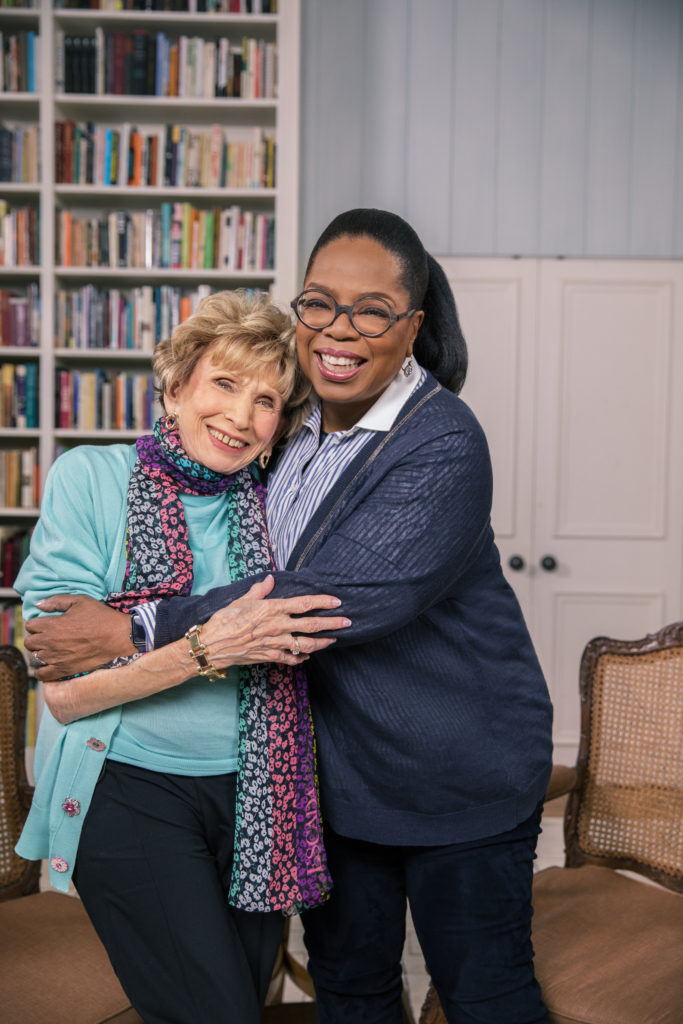 ---
Podcast – Wild Ideas Worth Living
Listen to Shelby Stanger's podcast in which she interviews Dr. Edie. Visit the Wild Ideas Worth Living website for the full transcript and more information.
---
Interview with Jakob van Wielink
Jakob van Wielink is an international educator, author and coach in the field of (personal) leadership, transition and grief. He interviewed Dr. Edie on the occasion of her visit to the Netherlands in May 2019 where she delivered a Masterclass on resilience and personal growth in the face of life's challenges.
---
Interview with EenVandaag, Dutch National Television
Watch Dr. Eger's interview with EenVandaag while in the Netherlands to lead a Masterclass. It is conducted in both Dutch and English but you will understand the story being told about her experience having to dance for Dr. Mengele in Auschwitz . See the whole article on the EenVandaag website.
---
Katie Couric Stops By to Chat About "The Choice"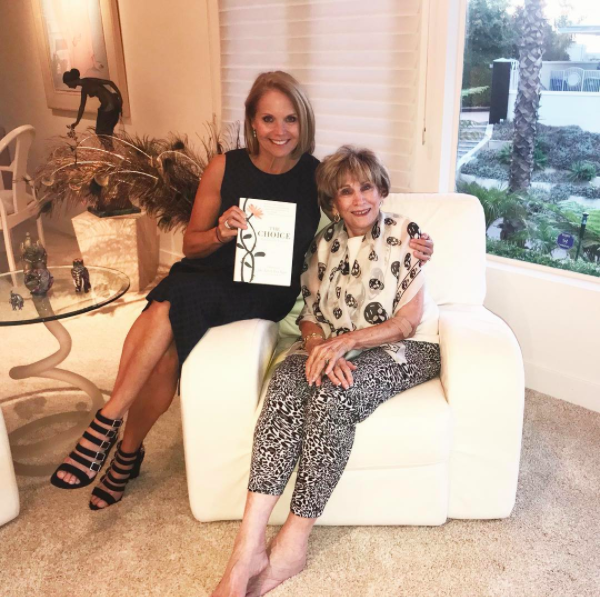 Dr. Eger received a welcomed visitor recently; the exquisite and renowned Katie Couric! She visited Edie in her La Jolla home and the pair chatted about Edie's life and memoir The Choice. To check out Katie's take on the pleasant morning, visit her Instagram post here. We're so thrilled that Edie's story is reaching so far and wide!
---
Larry King: Holocaust survivor Dr. Edith Eger on forgiveness & Auschwitz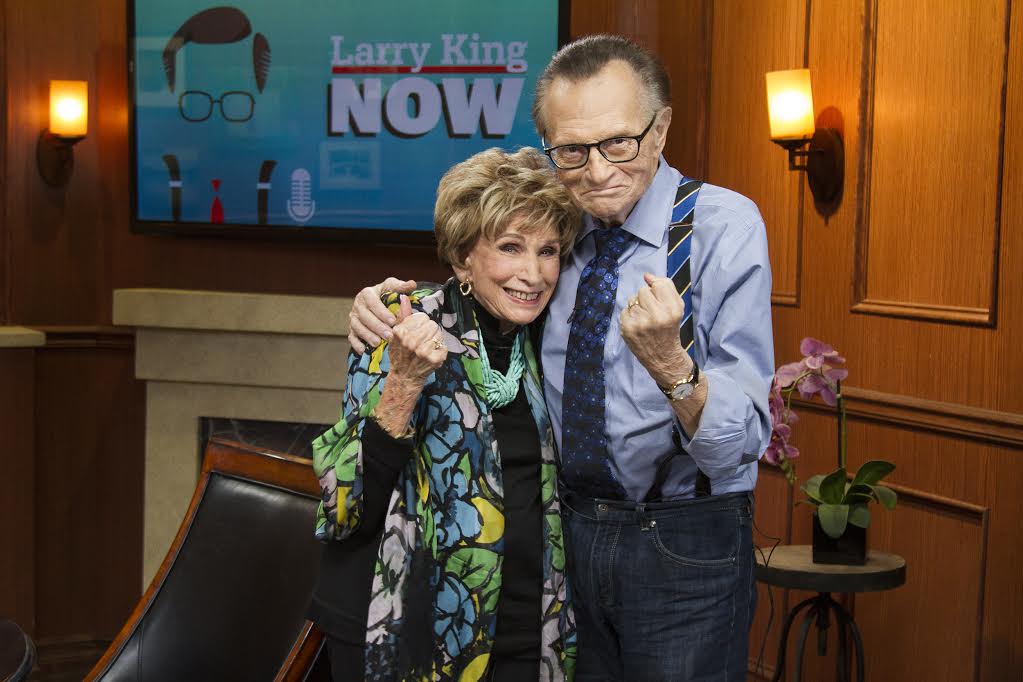 In a remarkably candid interview, renowned psychologist and Holocaust survivor Dr. Edith Eger recounts her time spent at Auschwitz, why she returned to the camp years later, and how she was finally able to find forgiveness. Plus, Dr. Eger on growing nationalism in the US and abroad.
See more clips and the full interview here.
---
Acclaimed Irish Radio Talkshow Champions "The Choice"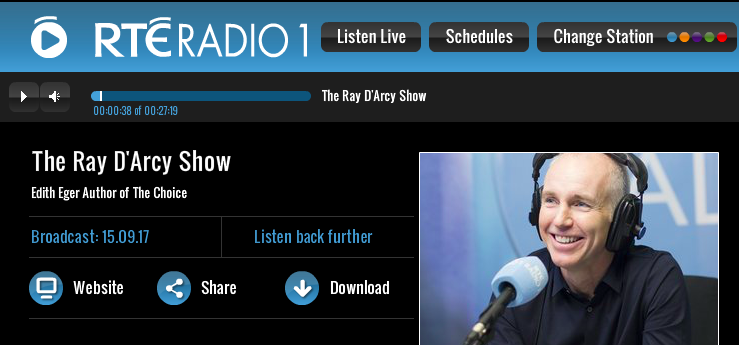 Ray D'Arcy from RTÉ Radio One's The Ray D'Arcy Show graciously interviewed Dr. Eger about her memoir "The Choice" and her life as a Holocaust survivor and psychologist. RTÉ's Today Show has been trailing clips of this interview all week, stating that they "highly recommend" "The Choice" and that "it will change your life." Perhaps this is partly why "The Choice" is #2 on Ireland's Bestseller list. Congratulations Edie!
The Choice is… a book that will stay with you for a lifetime. — Ray D'Arcy, RTÉ Radio One
Irish Times calls The Choice a "story of afterwards" in Heartfelt Interview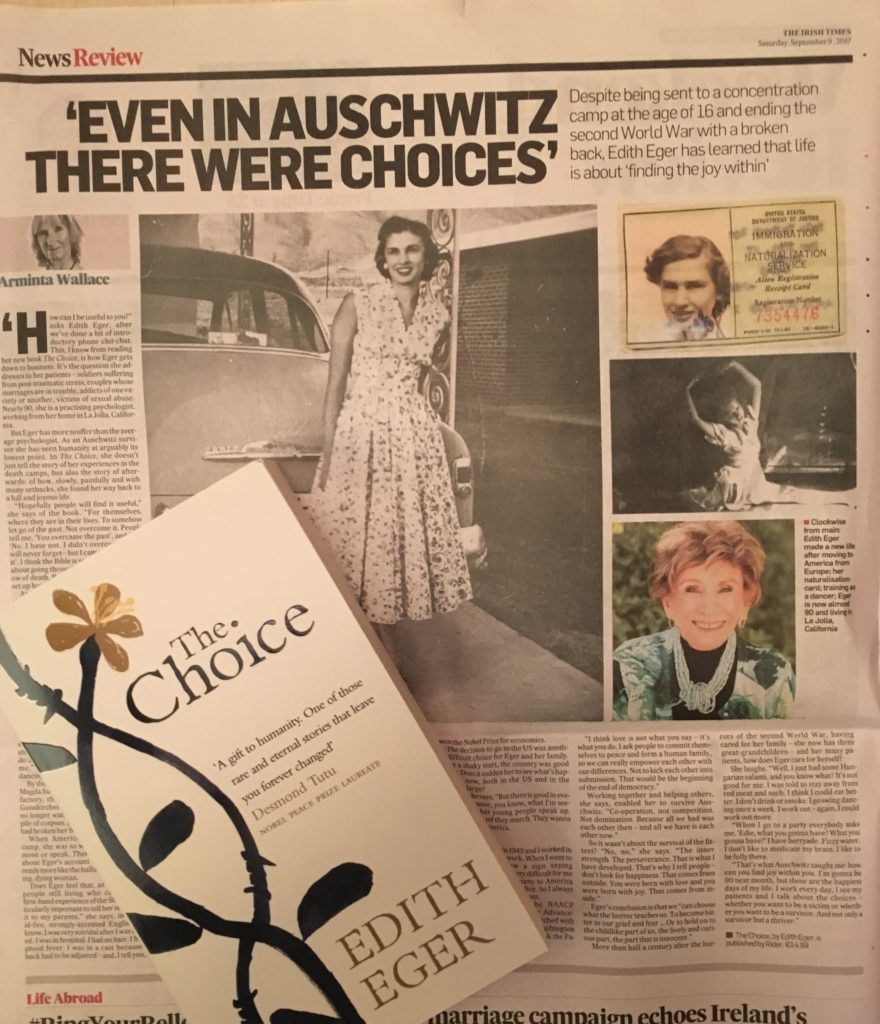 The Irish Times published a wonderful article from established author Arminta Wallace, discussing everything from Edie's memoir "The Choice" and her decision to find joy to marching with Martin Luther King and building her family in America.
"Then I began to think – if I'm gonna live, I need to be for something. Not just against something, but for life. And for being a functional human being."
— Dr. Eger for Irish Times
Dr. Eger talks tackling PTSD and the war on Iraq in Broadly. interview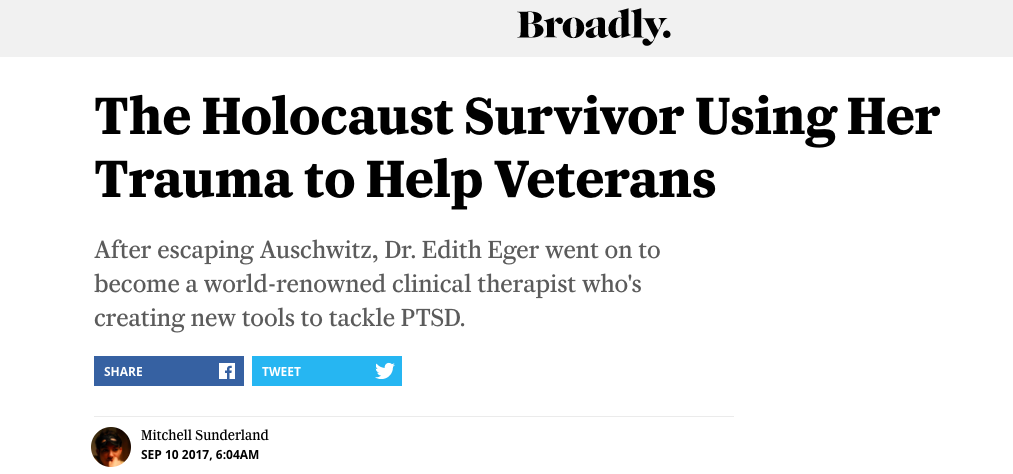 Broadly. (yes, with a period!), an imprint of renowned digital platform Vice, is devoted to representing the woman's experience. In an interview with Dr. Eger, reporter Mitchell Sunderland explores Edie's perspectives on PTSD, trauma, and the similarities between Holocaust survivors and soldiers fighting the war in Iraq. Dr. Eger has devoted decades to giving back to the U.S. military that saved her life, through extensive PTSD therapy, visits to military establishments across America, and by serving as a consultant for the U.S. Army and Navy.
Thank you, Broadly. for showcasing Edie and her message!
The Choice uses Eger's journey to teach readers how they, too, can triumph over trauma.
—Mitchell Sunderland on Dr. Eger's "The Choice"
New Zealand Nine to Noon Radio Show Interviews Dr. Eger
New Zealand's Nine to Noon radio show hosted Dr. Eger for an interview with Kathryn Ryan on Friday, September 8th. Click here to listen.
"The more choices we have, the less you will feel like a victim." — Dr. Eger on why she chose "The Choice" as her memoir's title.