The Healing Trauma Summit – 2018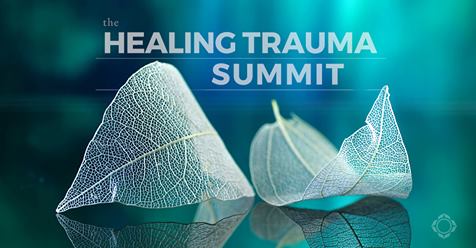 Dr. Edith Eger joins 24 other worldwide leaders in the field of trauma healing in this free online summit that began June 4, 2018.
Go here to find out more about the event.
ABOUT THE SUMMIT
Explore the most effective new and proven approaches to healing and growing in the wake of trauma. Whether you're a therapist, supporting a loved one, or in the recovery process yourself—join us to learn evidence-based techniques that you can immediately put into practice.
Highlights:
New research spanning neuroscience, body-based therapies, yoga, mindfulness and meditation, traditional shamanic healing, EMDR, Emotional Freedom Technique (EFT), generational and cultural recovery paradigms, and more
Inspiring stories from survivors and luminaries of community and cultural healing
Guided practices and examples included in many sessions co-hosted by a 30-year veteran of healing trauma, Jeffrey Rutstein, PsyD
---
Book People Discussion and Signing a Huge Success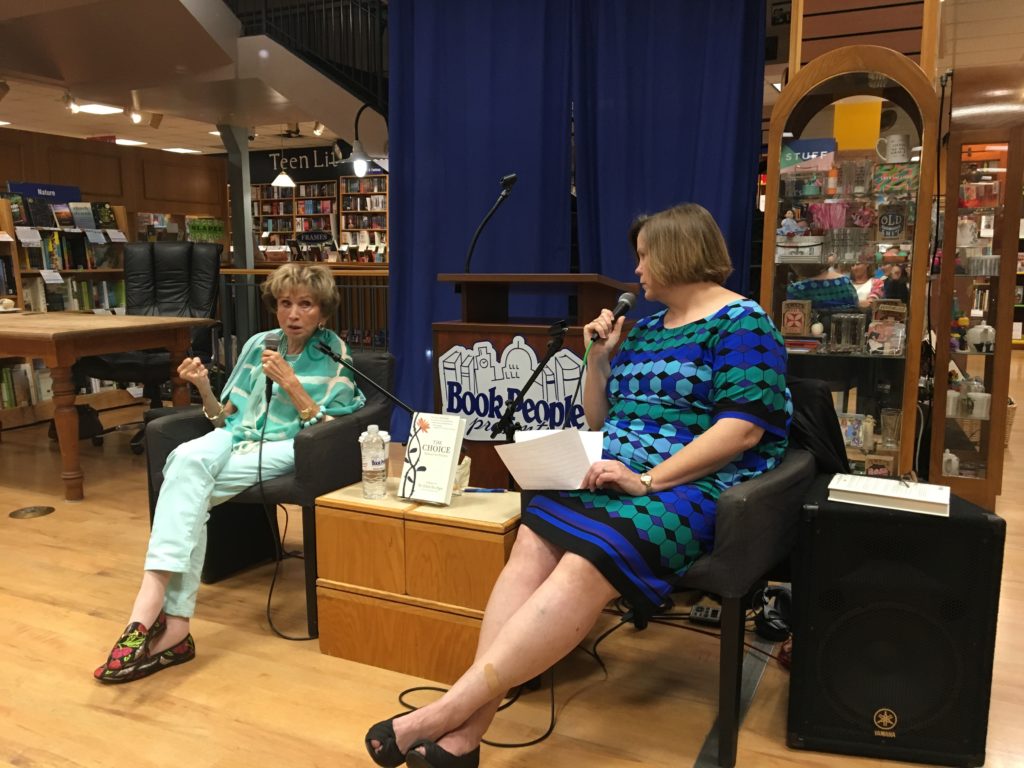 Dr. Eger made her way to Austin, TX to speak at Austin's largest independent bookseller, Book People. With over 200 attendees and even more books sold online (and even internationally), Edie had a wonderful time sharing her story with all around. She was in-conversation with Austin's NPR Station, KUT and its own Jennifer Stayton.
See more Book People event photos…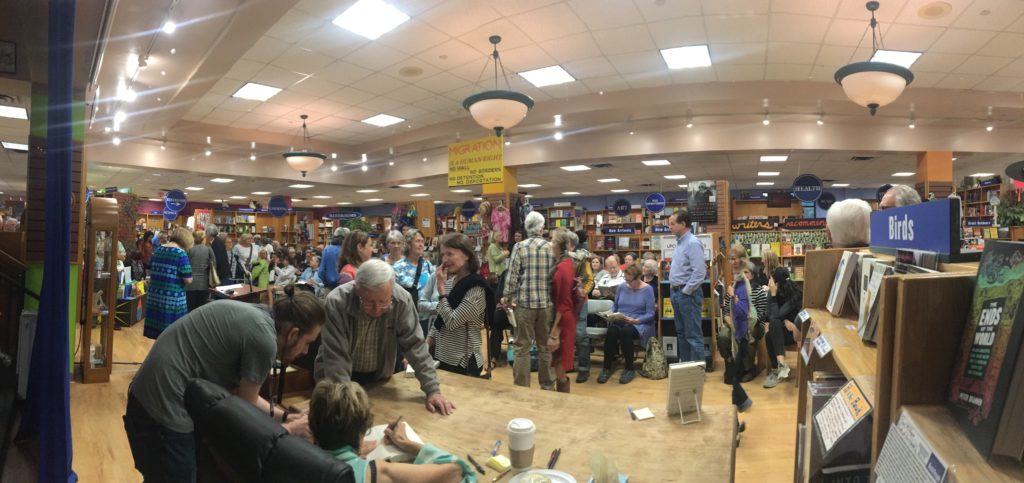 ---
El Paso Welcomes Edie with Open Arms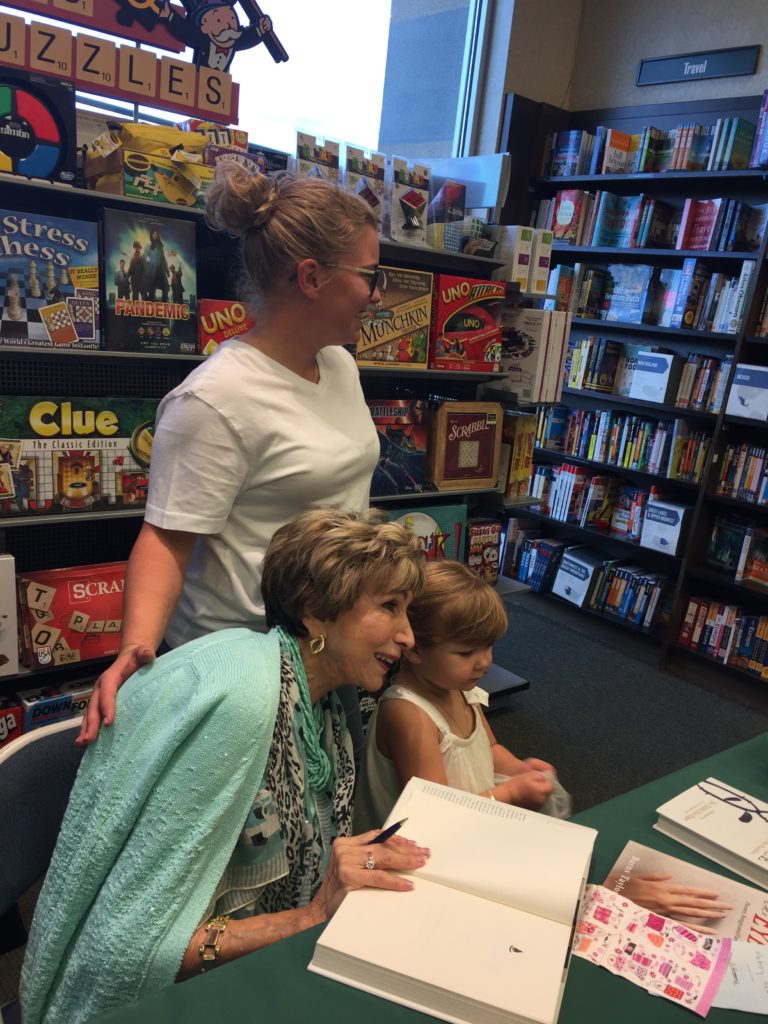 Dr. Eger's successful book discussions and signings have continued, this time in El Paso, TX. With a long history in El Paso from her time at the William Beaumont Army Medical Center, Edie was thrilled to return to some of her roots in Texas.
The Sunland Park Barnes & Noble loved having her, and she was introduced by Jamie Flores of the El Paso Holocaust Museum. Everyone loved hearing Dr. Eger speak and were buzzing with excitement at the chance to get their copies of The Choice personalized by the 90 year old psychologist.
See more El Paso event photos...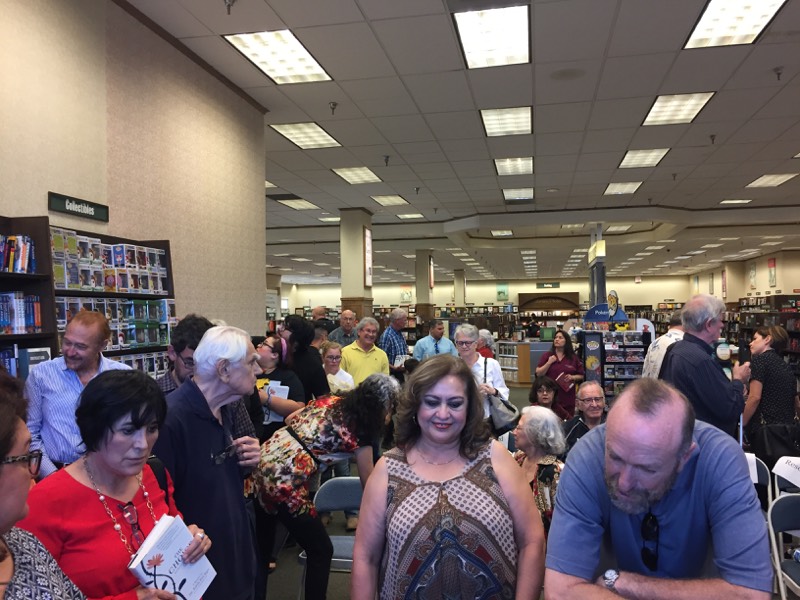 ---
WISeR Hosts Dr. Eger During Noteworthy Peace Makers Celebration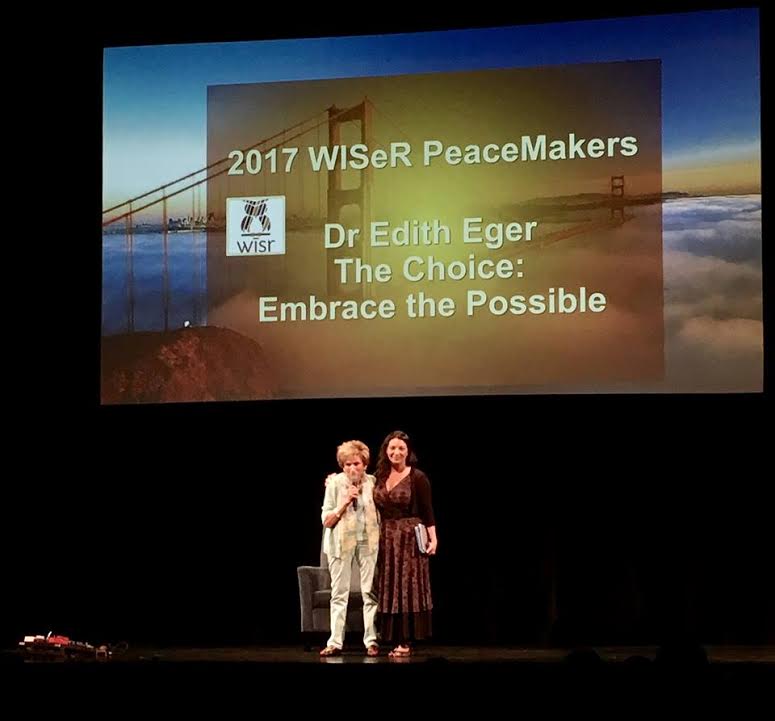 Hundreds of people attended WISeR's Peace Makers Celebration at the historic Marine's Memorial Theatre in San Francisco on Saturday evening. Over 22 multidisciplinary workshops, presentations, film and discussions on resilience, trauma informed care, nonviolence, human dignity, memoir writing, multiculturalism, healing, expressive arts, inclusivity, activism, innovative non-pathologizing trauma-informed care, epigenetics, ecology, biology and social justice were offered throughout the four day WISeR Annual Conference.
Dr. Edie's Peace Maker's Celebration Event presentation on Saturday, and her brilliant Berkeley workshop on Sunday coalesced not only SFBay National week of Non Violence events and WISeR Annual Conference Themes. Dr. Eger also unified, contextualized and fomented the many life-affirming and inspiring endeavors of community partners, attorneys, scientists, nurses, physicians, therapists, activists, artists, filmmakers, business people, researchers, educators, families and peacemakers everywhere; underscoring the importance of doing good for others, unconditional love, and how each individual – each and every human being – has the capacity to heal. Dr. Edie demonstrated how we can all practice unconditional love and forgiveness. She meaningfully articulated how each and every individual matters, and we can all work together toward making the world a better place.
After her inspiring Saturday evening presentation on Forgiveness and Resilience, Dr. Edie graciously signed copies of her memoir, "The Choice: Embrace the Possible." While the electroacoustic harp trio performed special tributes to Dr. Edie, with standards & favorites "I Left My Heart in San Francisco" and "A Nightingale Sang on Berkeley Square" onstage, Dr. Edie greeted attendees enthusiastically. The line filled the theatre lobby. Dr. Edie's books were provided at the theatre venue by San Francisco's own Book Shop West Portal. Susan Tunis from Book Shop West Portal is also an alum of Saybrook University and was thrilled to have an opportunity to meet Dr. Edie. All of Edie's books sold out!
Dr. Edie was followed by presenters Law Professor David Yamada on Eliminationist Behaviors and Workplace Bullying; Fine Artist, Educator and Ecologist Heidi Hardin, on the UN ACE's Elimination Initiative and Global Center for Human Family Peace Project; Global Trauma Care Initiative Diana Canant's Turning the Tide of Trauma; and Lauded Therapist, Filmmaker, Educator and Activist, Satsuki Ina PhD "And Then They Came for Us" Talk and Film Screening. Fellow WISeR Peace Makers Presenter, Suffolk Law Professor, WISR Alumnus and WISR Board of Trustees Member; David Yamada JD, PhD had this to say about Saturday's event and Dr. Edie's memoir in his blog on Monday:
"I was so moved by Dr. Edie's presentation that I read her book cover-to-cover during the long flight back from San Francisco to Boston… I cannot recommend this intelligent and deeply humane book too highly."
-Dr. David Yamada
See more WISer event photos...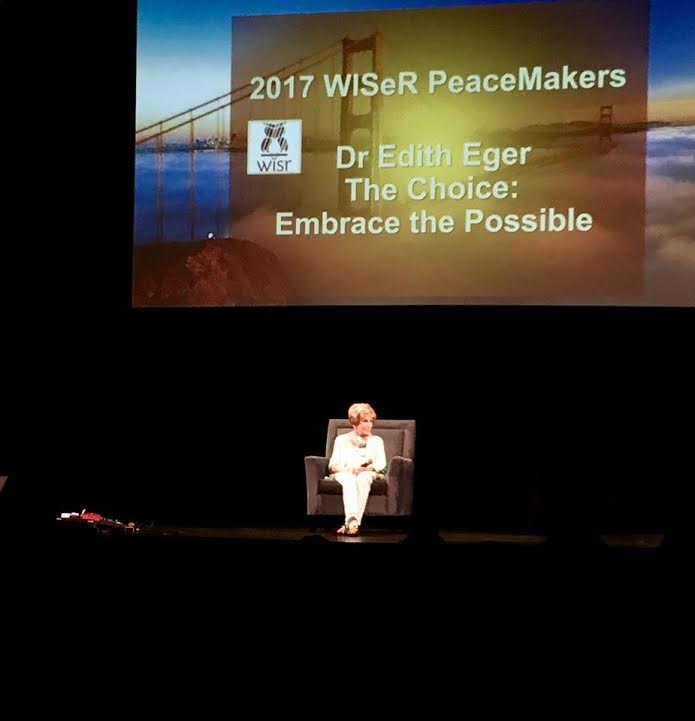 PHOTOS AND EVENT SUMMARY From WISer
---
Warwick's Book Launch for THE CHOICE a Major Success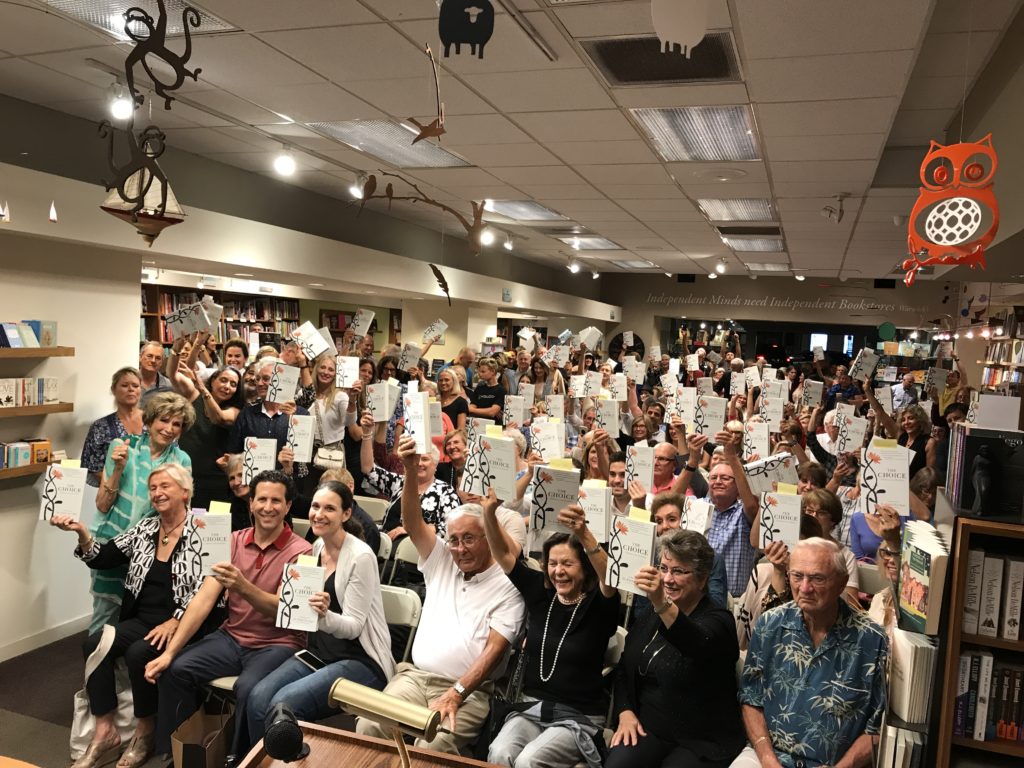 Warwick's "THE CHOICE" Launch: Dr. Eger discusses love, forgiveness, and humor during the standing-room only event at the country's oldest independent bookstore. What would normally be a casual evening at a local bookstore in La Jolla became a night to remember as San Diego locals lined up in droves for the opportunity to hear renowned psychologist and Holocaust survivor, Dr. Edith Eger, discuss her acclaimed new memoir THE CHOICE. An unprecedented amount of guests filed into Warwick's on September 5th, making THE CHOICE book launch one of the most well-attended events in the beloved bookseller's history. Joined by Wendy Walker, long-time CNN producer and executive producer for ABC's "Notorious," Edith told her story in the hope of helping those in attendance with their own stories. The psychologist, great-grandmother, and new author connected with everyone in the room as if they were her patients, or even her family. It was an atmosphere of sincerity, trust, and open discussion as Edith addressed her own experiences with hate, oppression and resilience, and how her story resonates in today's climate of intolerance.
Readers who purchased a copy of Edith's memoir from Warwick's were able to meet Edith after the author talk and have their books signed and personalized. The signing was so popular that Warwick's sold out its inventory of THE CHOICE! They ultimately ordered dozens more copies for attendees who lined up to have even a bookmark signed by the inspiring author and psychologist.
Edith continued to engage her audience during the book signing with laughs about her experience as a sexologist, sobering stories of her Auschwitz past, and an endearing conversation with a young 14-year old fan — resulting in the 89-year-old avid dancer wowing the room with her pitch perfect high-kick.
"It was truly an honor to host Edie at Warwick's. Her wisdom, love, spirit and understanding mesmerized and inspired an audience of over 200 people, young and old, men and women. It was truly a remarkable evening, and I left the store with no doubt that the other attendees were feeling similarly moved and reflective. She gave us all a lasting gift."

—Nancy Warwick, Warwick's owner

Under the direction of news anchor, Kimberly Hunt, ABC Television affiliate KGTV's 10News spotlighted the event. Armando Aparicio interviewed Edith before the Warwick's author engagement. Bree Steffen reporting. Edith was thrilled by their wonderful coverage and their eagerness to share her important and meaningful life story with the world.
Learn more about Dr. Eger by watching more Videos.
See more Warwick event photos...